Located in a limited traffic area is at the center of city life, close to the sea roads, art and shopping. Within a few meters they are the best restaurants, beaches, cinema and theater, and the typical narrow streets of Sorrento.
From the nearby port you can easily reach Capri and the other islands of Bay of Naples as well as the beautiful beaches of Sorrento Peninsula: Ieranto Bay, Marina del Cantone etc … In less than half an hour you can reach the pearls of the Amalfi Coast, like Positano, Amalfi and Ravello. And for a trip which takes in history and archeology, Pompeii, Herculaneum and Naples by train.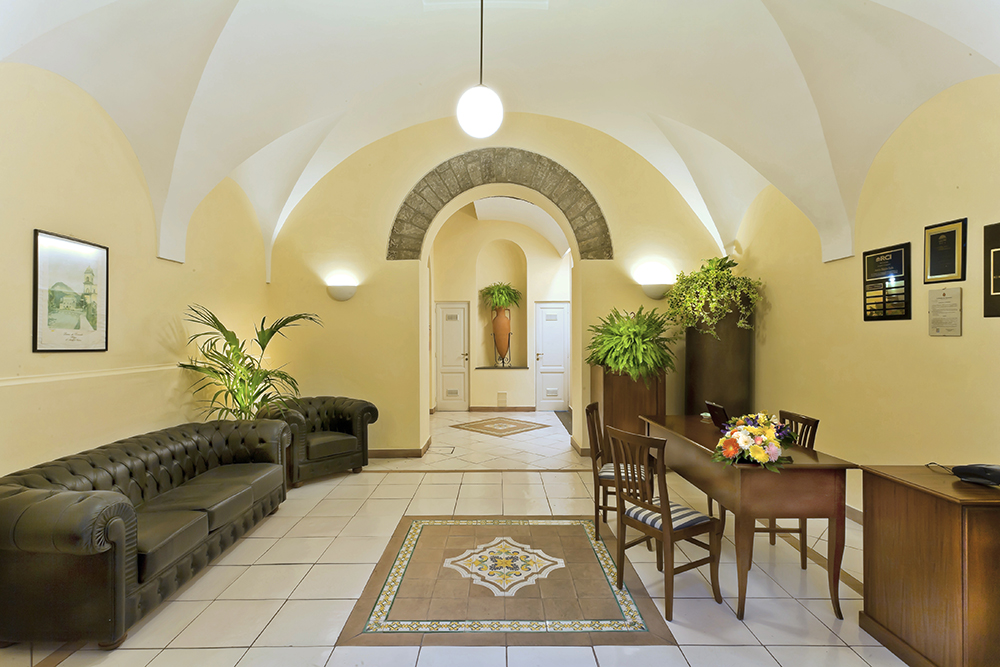 During the restoration work of the foundations of the building have been preserved traces of the ancient city. Establish the origin of the building structure is very complex operation, because of numerous interventions that it has undergone over the centuries.
However, we can affirm with every probability that the entrance hall with an barrel vault with lunettes dates back to the fourteenth century, as the structure of the ladder and maybe the precious coloumn located in the courtyard in the foreground. Surely we can say that the building existed in 1600 had already appeared as the first sights of Sorrento as that of Pacichelli.
The work was completed in January 1999 have restored the building to its ancient identity, eliminating the surface disfiguration, by using local materials for finishes both interior and exterior. From the restoration so complete, we have obtained 6 apartments: 2 mono, 1-roomed and 3 three rooms.
Each of the six apartments of the Antico Palazzo Scala is elegantly furnished and equipped with all comforts for a pleasant holiday.
Contact us
---
We'll answer you as soon as possible
---